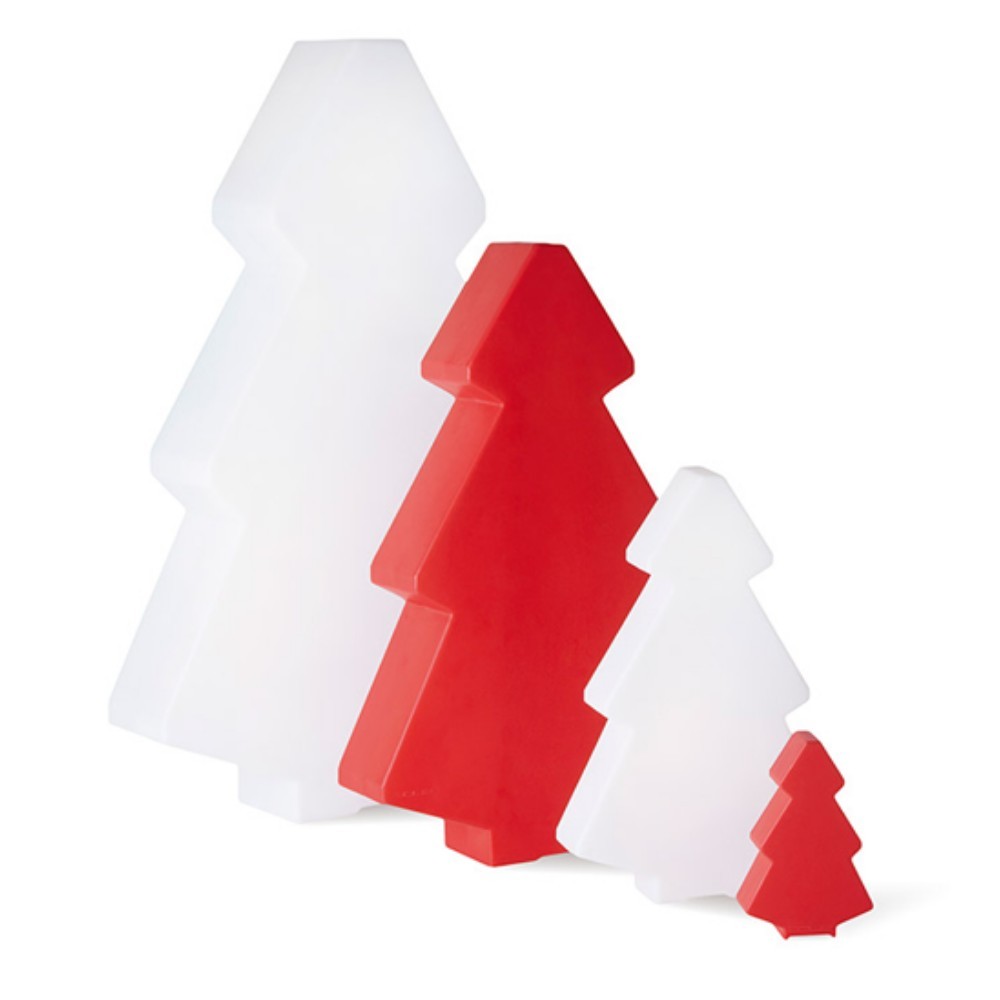  
SLIDE LIGHTREE luminous tree led floor lamp H 200 CM
Designer Loetitia Censi. Lightree is the table lamp that tells, with a stylized and decisive sign, the classic mountain pine and that becomes special to enrich the most sought-after Christmas atmospheres with light and color.
Dimensions cm L / W / H 130/30/200
Lightree is the floor lamp that tells, with a stylized and decisive sign, the classic mountain pine and that becomes special to enrich the most sought-after Christmas atmospheres with light and color. Designed by Loetizia Censi, it can adapt to any type of environment, from the largest to the most discreet, thanks to the different sizes in which it is available. From a height of only 45 cm, Lightree is also available in the 100cm, 150cm versions (these two dimensions also for outdoor use) and in the scenographic and suggestive 2-meter version, for indoor use. In addition to the classic green color, which is inspired by the tones of nature, it is tinged with a warm Christmas red or the purest snow white.
Polyethylene material. Dimensions cm. L / P / A 130/30/200. Brand Slide . Lighting KIT LED 25W INCLUDED. Weight kg. 29. Designer Loetitia Censi.
VFGIUQWSE
Il servizio di acquisto, di gestione dell'ordine, di consegna è stato ottimo.
Fondazione A.
Tutto perfetto
Azienda seria ed affidabile, comunicazione perfetta e tempi di spedizione super!!
Renato A.
Cordialità e professionalità
Negozio ben fornito di tutto. Personalmente ho acquistato da loro due piani a induzione che mi hanno permesso di avere un buono sconto e dal...
Antonio G.
Divano 2 posti Doria
Azienda ben organizzata e sempre pronta a rispondere al cliente. Il prodotto ordinato è arrivato nei tempi stabiliti e con avviso di consegna da...
Maria C.
Tempestività e precisione
Il Venditore è stato tempestivo nelle risposte e ha fornito tutte le info necessarie. Purtroppo non posso dire lo stesso sul corriere utilizzato...
Manuela B.
Commande internationale
Je suis très satisfait de la livraison et des renseignements fournis pas Samitech.
Philippe C.
Madia
Ho acquistato su Samitech la Madia Alpen sono molto soddisfatto. il personale e' sempre disponibile e gentile.
Mario
Il servizio è pessimo
Mi hanno lasciato un pacco di 70kg giù al palazzo. Ho dovuto pagare altre persone per farlo salire. Da solo non potevo mai farcela. Non era scritto...
Raffaele B.
comportamento
Gentili e puntuali
Fernando T.
Ottima esperienza
Ho acquistato con molta soddisfazione finale. Inizialmente ho chiesto conferma in chat sulla reale disponibilità di un forno Samsung. Mi è stato...
Graziella M.
Marco
iPhone 12 64Gb, Negozio estremamente affidabile! Nessun problema! Consigliato
Marco E.
FORNO ELETTRICO
Ho comprato di recente un forno elettrico e quando si e' verificato un inconveniente (il forno non era reperibile), mi sono venuti incontro,...
Laura N.
secondo monopattino
seconda volta che compro da loro,sempre disponibili,risposte velocissime,una garanzia!
Franco T.
Monopattino BONGO SERIE Z
Ottimo prodotto, ottima assistenza al cliente con risposte entro breve tempo. Forse tempi un po' lunghi per la consegna, ma comprensibile in tempo...
Simone
Acquisto Bongo serie z off-roa
Salve a tutti, la serietà dell' azienda è da ammirare, sono sempre disponibili e pronti ad aiutarti in qualunque momento. Ho acquistato il...
Benedetto S.
Veloci, professionali e seri
Rispondono puntualmente ad ogni esigenza o domanda
Davide C.
Gentilissimi servizio perfetto
Samitech, servizio eccellente, per qualsiasi cosa risposte immediate, tutto perfetto, grazie.
Franco T.
Monopattino Cecotec Bongo Z
Ho acquistato il monopattino alla Samitech perché essendo un'azienda italiana mi ha dato più fiducia rispetto a tutte le altre che vendevano lo...
Stefano G.
Grazie
Siete stati gentilissimi i miei complimenti
Roberto S.
Bongo z off road
arrivato oggi come previsto.prodotto ottimo e come descritto .negozio ottimo e lo consiglio a tutti per affidabiltà e sempre disponibili a...
Filippo D.
Monopattino elettrico bongo z
ordine arrivato oggi come previsto.bel prodotto apparte l attesa x i motivi validi e sempre disponibili a risolvere i problemi.io lo consiglio a...
Filippo D.
Monopattino
Ottimo servizio sul sito
Roberto G.
ottimo lavoro
Finalmente dopo avere passato un periodo di lockdown x 2 mesi mi hanno consegnato la camera di mio figlio Sono soddisfatta del acquisto e in questo...
Paola
7 other products in the same category: